Film resources to deepen the theme of synodality (1/2)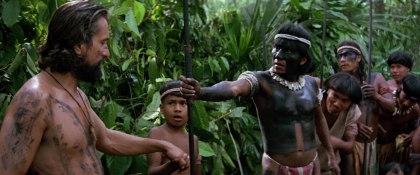 Latin America & Caribbean
In communion with the Synod of Bishops whose theme for reflection is synodality, SIGNIS presents a list of films ( available in English at this link ) to deepen the values of community, social dialogue, inclusion, accompaniment and listen fraternally. In this first installment, the SIGNIS Ecclesiastical Advisor, Luis García Orso SJ, accompanies this list with a subtle note that invites us to delve into synodality through cinema.
"By walking together, and reflecting together on the path traveled, the Church will be able to learn, from what it will experience, what are the processes that can help it to live communion, to participate and to open up to mission… A fundamental question It encourages and guides us: how is this "walking together" that allows the Church to announce the Gospel, in accordance with the mission entrusted to it, is carried out today, at various levels (from the local to the universal); and what steps does the Spirit invite us to take to grow as a Synodal Church? " (Preparatory document for the XVI Assembly of the Synod of Bishops, no. 1-2)
First part
The Mission / La Misión (USA, 1986)
In the midst of the Guarani indigenous people, the Jesuit missionaries try to walk with them and create a "city of God" opposed to the city colonized by power, plundered, materialistic, marginalized. They seek an evangelization that respects the cultures of the peoples and helps to develop the best of their capacities and their integral growth. The figures of Father Gabriel, with the purity of his dedication, and Rodrigo, the repentant murderer and convert, remain in the filmic memory as prototypes of a far from simple mission that wants to be a service to the faith and justice of the Kingdom of God, assuming the cross and the glory of Christ.
Babette's Feast / Babette's Feast (Dinam, 1987)
A foreign cook, in a very gratuitous and disinterested way, comes to bring flavor and taste for life, an example of service to others, and to be a means of reconciliation, in a religious community locked in formalities and nostalgia. Babette serves the Kingdom banquet; the whole movie prepares us for him.
Romero (EU, 1989)
Conversion and martyrdom of Monsignor Óscar A. Romero as he suffered closely, as a pastor, the oppression and injustices against the Salvadoran people. A moving portrait of an entirely human and entirely Christian pastor: a saint.
City of Joy / The city of joy (USA-UK, 1992)
In Calcutta, a doctor disappointed in life meets a Christian social promoter and a town coachman, but above all he meets the poor who come together to build a city of joy in the midst of their needs and survival. Redemption occurs in that encounter.
Dead Man Walking / Death Penalty / (EU, 1995)
A Catholic nun, Sister Helen Prejean, closely accompanies a man sentenced to death. She embodies Christian solidarity, generous dedication, the sense of living and dying, mercy, above prejudices, fears, laws, conflicts, which she has to endure around her.
Le huitiéme jour / The eighth day (Belgium, 1996)
A chance meeting between two totally different people: a senior sales executive and a young man with Down syndrome. Harry, the modern executive represents material interest, slave labor, cold efficiency, self-centeredness in life, although apparent successes. Young Georges is spontaneous, imaginative, free, loving, even though he is seen as a limited person. Harry's meeting with Georges is entering the 'eighth day', where love comes first. To enter it you have to become like a child.
La veuve de Saint-Pierre / Love never dies (France, 2000)
In a small village in French Canada, the Captain and his wife take care of and accompany a man condemned to the guillotine and bring out the best of a human being. A beautiful story about the mysterious and redeeming force of closeness, affection, compassion, over and above the intransigence that it condemns.
So on earth as it is in heaven (Sweden, 2004)
After suffering a heart attack, a renowned conductor retires to his hometown to recover and find peace. By forming a choir with different people from the community and by being close to them, Daniel will learn to listen to them and get the best out of each one, but also to reconcile himself and help reconcile and form a real community, even in the midst of tensions.
The Motorcycle Diaries / Motorcycle Diaries (EU, Argent, Brazil, 2004)
The journey of two young Argentines –Ernesto Che Guevara and Alberto Granado-, which begins as an adventure, continues as an apprenticeship from the reality that touches them, and becomes a path of communion and solidarity and spiritual growth. A journey made of hugs and encounters that makes the walkers closer, more human, more in solidarity with the people.
Babel (EU, 2006)
The biblical Babel represents the confusion, the dispersion, the isolation, between the people. Also today it occurs in our society: we do not really meet or communicate, but we raise barriers, prejudices, marginalization of all kinds, injustices ... Iñárritu's film seems to tell us that only when we feel the wound of the other or not, when in it Let's see another similar human being, we can begin to find ourselves in what we are: companions on the road, neighbors, brothers. The Spirit invites us to speak other languages and other encounters, in a world in which we do not quite recognize ourselves as creatures who live by the same Creator and have a common Father.
Auf der Anderen Seit / At the Edge of Heaven (Germany, Turkey, 2007)
The lives of six people - Turkish and German - are getting closer, connecting, touching, and also painfully separating, due to the mystery of accidents, chance or providence; lives that, like Abraham, are asked to sacrifice their only son. Stories of human beings who do not know whether to wait for a reconciliation, but who will learn with pain how to open up to it. Beings that will come to that day that Abraham called "God will provide."
Departures / Violins in the Sky (Japan, 2008)
An emotional and beautiful film about life and death, about closeness and reconciliation, about destiny and choice, about the beauty and tenderness of small details. That which perhaps we are losing in the bustle of big modern cities and that needs to be learned and practiced, little by little, patiently. This Japanese film helps us to embrace the mystery of death as much as life is embraced, to recognize how close or distant we are from people, to believe in that door to eternity that we all have to cross, and to accompany others in the transition to the Beauty of Life.
Gran Torino (EU, 2008)
What does one really know about life and death, about guilt and forgiveness, about pain and salvation ?, skeptically asks an old widower to a young priest. The answers will only come to him from the same experience of reality, lived, suffered, faced, in the encounter with the evil and violence nearby, but also and above all with the generous and gratuitous closeness of the marginalized immigrants that the same old man despises. . Thus, old Walt can become a figure of the Good Samaritan, the merciful father, or the lamb who gives his life for the redemption of those oppressed by Evil, if he opens himself to the grace that is given to him.
Luis García Orso, SJ
Mexico, October 13, 2021