The Latin American communication of mourning for the death of Jesús Martín Barbero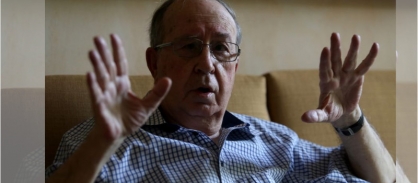 Latin America & Caribbean
Colombia
Bogotá, Colombia.- At the age of 83, in the Colombian city of Cali, where he had lived for several decades, on Saturday June 12 the Spanish philosopher, semiologist and communication scientist Jesús Martín-Barbero died. The Latin American and Caribbean Catholic Association of Communication, SIGNIS ALC, expressed deep regret for the sensitive death of one of the greatest communication theorists, author of several valuable works such as "Mass Communication" , "Discourse and Power" , "Television and Melodrama ", "Night Maps and Pre-texts: Conversations about communication and its contexts ", as well as "From the media to mediations ".
In 2007, Jesús Martín Barbero participated through a video conference in the III Latin American and Caribbean Communication Congress , COMLAC, organized by OCLACC (today SIGNIS ALC ), together with the Private Technical University of Loja, with a conference entitled " The media , constructors of citizenship " , in which he stated that" talking about communication is much more than talking about the media, because talking about communication is talking about actors of social practices, cultural and political processes ".
He pointed out that "where our ways of thinking about communication should point is how to reintegrate into political life, and into political life at all the levels that we have today, because today we know that politics is not only made by politicians, we as citizens through very diverse forms of organizations of association movements - how to relocate within our new political cultures the sensitivities, the ways of feeling, the ways of thinking, the ways to organize of young people in such a way that our proposals of communication is not that they leave out the same thing that official politics leaves out. That they be proposals capable of enabling the best of young people to meet again within our projects of social change, our projects for the transformation of democracy, our projects to take charge of the heterogeneity that our countries experience ".
He added that "This history that we have lived through great suffering should be able to teach us that today the alternative, the communal, no longer finds its truth in what the local and the popular in some way meant, but finds it in its ability to articulate languages , sensibilities, ways of narrating local to country projects, increasingly to construction projects of the great homeland ".
In its note of condolences, the Latin American and Caribbean Catholic Association of Communication, SIGNIS ALC, expressed its deep regret for this irreparable departure and extends its embrace of solidarity and condolence to his beloved family. May our good God, of life and communication, receive you in his kingdom of Peace "
Editor: SIGNIS ALC