Yo, Daniel Blake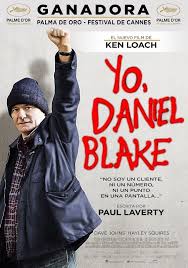 United Kingdom of Great Britain and Northern Ireland
By Alejandro Caro
"Yo, Daniel Blake" is a moving and devastating drama that tells its story with an imperturbable sobriety and draws us to emotion, but with subtlety, irony; with characters marginalized with wit, rage and humanity.

A social drama and social criticism very present in the cinematography of this English director, although this time the script has some bumps, but the story is powerful, fresh and above all human.

Loach's cinema is a cinema that does not leave anybody indifferent and annoying and can be accused of being simplistic, but the message does not lose force because it continues: the working class continues the same or worse than it did 30 years ago, and Loach will not tire of shout it out. For the rest, it is a drama very close to the reality of many of our countries.

Finally, I do not wish to leave out some elements of the director's social humanism that are present in this film, gestures of camaraderie, appreciation, warmth and nobility. That is what ultimately makes us human.

Available on Netflix.
Synopsis

For the first time in his life, a victim of heart problems, Daniel Blake, a 59-year-old English carpenter, is forced to go to social assistance. However, even though the doctor has forbidden him to work, the administration forces him to look for a job if he does not want to receive a sanction. At the employment office, Daniel meets Katie, a single mother with two children. Prisoners in Britain's current administrative tangle, Daniel and Katie will try to help each other.
Data sheet
I Daniel Blake
Original title: I, Daniel Blake
Year: 2016
Duration: 100 min.
Country: UK
Direction: Ken Loach
Script: Paul Laverty
Music: George Fenton
Photography: Robbie Ryan
Starring: Dave Johns, Hayley Squires, Briana Shann, Dylan McKiernan, Kate Rutter, Sharon Percy, Kema Sikazwe, Steven Richens, Amanda Payne
Genre: Drama | Social drama. Employment work. Friendship
Production Company: British Film Institute, British Film Institute, Sixteen Films
Awards
2016: Cannes Film Festival: Palme d'Or
2016: BAFTA Awards: Best British Film. 5 nominations
2016: Goya Awards: Nominated for Best European Film
2016: César Awards: Best Foreign Film
2016: David di Donatello Awards: Best Film in the European Union
2016: European Film Awards: 4 nominations, including Best Film
2016: San Sebastián Festival: Audience Award
2016: British Independent Film Awards (BIFA): Best Actor. 5 nominations
-----
Comment originally published on the SIGNIS Chile site